NEWSLETTER No 5
December 2007
Dear Friend,

Were you, like me, appalled by the sight of the small cruise ship Explorer sinking in the Southern Ocean recently. The news reports claimed that Explorer hit an 'iceberg' and punctured a hole through her hull below the water line. Apparently the hole was only a few inches across. It seems extraordinary that the flow of water entering the ship could not be stemmed or that on-board pumps could not cope with the flow for longer than they did. The fact is, by chance, the water very quickly found its way into the engine room and stopped the auxiliary pumping machinery. One problem led to another and, once the ship had heeled over, she was a lost cause. The sight of a sinking ship is always a shock. In this case, it was a tragic end for such a well known, pioneering little ship.

   On the Transglobe Expedition ship, Benjamin Bowring, in January 1981, while we were in theRossSea, we encountered the Lindblad Explorer (as Explorer was then named). She was probably the first vessel to bring tourists to Antarctica and for many years Lars Lindblad a Swedish/American adventurer provided exclusive tours for wealthy customers not only in Antarctica but in many remote waters of the World. My fading memory seems to recall that in 1981 the Lindblad Explorer was the victim of ice damage. Whether or not this was the case, she was dry-docked in Lyttelton, NZ, soon after the Benjamin Bowring. The early days of Antarctic cruising were fraught with difficulties. A look at the recordsof theInternational Association of Antarctic Tour Operators during the 1970s reveals that the Lindblad Explorer ran aground in Gerlache Strait in December 1971 (the passengers were rescued by the Chilean navy), she grounded again the following year in Admiralty Bay, King George Island (and was towed back to Norway) and yet again, this time on rocks off Weinke Island, in December 1979. The ship was built for Antarctic navigation although it appears that her ice strengthening was limited. The design of her hull was not particularly conducive to navigating pack-ice. Also, it seems strange that a properly ice strengthened hull should be punctured by ice below the water line where it is most vulnerable and the hull best protected. Many cruise ships currently in Antarctic waters are not designed for ice navigation at all. We must hope that Explorer will remain the first and last cruise ship to be lost in Antarctic waters.

Anniversary lecture at the RGS – 10th September

 

For the second year running, the Transglobe Expedition Trust organised an evening at the Royal Geographical Society. This time it was to celebrate the 25th Anniversary of the successful conclusion of the Transglo be Expedition 1979 – 1982.

    There was a wonderful turn out with almost a full house. It was particularly good to see so many old friends and in particular Margaret Davidson, now in her nineties, who was there despite recovering from a broken hip. We were also privileged to have His Royal Highness the Duke of Kent in attendance together with his son Lord Nicholas Windsor.

    As usual, the staff at the Royal Geographical Society were incredibly helpful and particular thanks must go to  Denise Prior, Nick Leevers and the 'house' team who looked after us so well. Steve Quinton (who operates the audio visual facilities) spent hours preparing the film and photographic material in order to produce a seamless presentation combining original film with personal accounts from Ran and members of the team. The speakers included, Ran, Oliver Shepard, Simon Grimes, Anton Bowring, Ken Cameron, Jim Young and Anthony Preston. Each told a story of personal experience from the expedition days and the result was the unique revelation of many un-recorded anecdotes and factual observations from 25 years ago.

    The event proved very successful and the audience, through their generous attendance, helped to raise over £10,000 for the Transglobe Expedition Trust coffers. In addition, DVD sales have been greatly boosted to the extent that orders, even months later are still coming in at the rate of several per week.

   Our thanks also go to Lodge Catering who provided refreshments and particularly to Bob Hampton, who now runs Lodge Catering but who many will remember during Transglobe days as a member of the Touch Ross team who were our honorary auditors.

   The Transglobe Expedition Trustees are extremely grateful to all those who helped to organise, took part in, or supported the event.

Trust News 2007

 

 As you may have read in the June newsletter, the Trust was keen to support John Hare in his plan to promote the plight of the very rare and endangered Bactrian camel of theGobiDesert. John's plan was to walk with two camels escorted by a Mongolian camel herdsman and as many supporters as possible from Poland to Britain. Sadly, the trip was postponed until next year. John, who runs the Wild Camel Protection Foundation, was concerned that it may be necessary to change the route. We look forward to hearing his revised plans in due course.

      In the meantime we had an enquiry from Donald Scott, an ecology graduate from theUniversity of Brighton who proposed a 14 week project, The University of BrightonSpiny Forest Research Expedition, to Madagascar starting in early November 2007. Mr Scott together with colleagues from the University had planned the expedition together with a number of Malagasy students. Their studies would include a biodiversity and habitat quality survey including a botanical survey, land use and habitat quality assessment and a faunal survey (birds and lemurs).In the Forest of St Augustin,TulearProvince, South Western Madagascar.

 In early December, the Trust received a preliminary report from which the following extracts are taken:

  "On Wednesday the 22nd November, we had completed all preparations and moved into the field proper. Our first encampment is situated on the calcareous plateau, bordering mangroves and the Mozambique Channel, with an escarpment running parallel to the sea to our East. This strip of land contains the majority of small villages and dwellings within the area due to its proximity to numerous, emergent kharstik water sources and the main road between St Augustin and Tulear.

Vegetation Survey: Upon our departure for the field proper, the vegetation survey team began by performing a reconnaissance in order to identify the optimum placement of our survey areas.

We decided to use line transects of 50 x 2 metres, as they have been successfully used in other study areas within the habitat type. Data is divided as follows:

   Vernacular names, specimens, height to forking, total height, diameter at breast height, diameter at 50 cm, phenology, stratification, slope aspect, elevation, percentage coverage, diameter at stump for cut trees, signs of regeneration and utilisation of trees.

George Schatz's "Flore Generique des Arbres de Madagascar" has been invaluable in obtaining the genera of tree and shrub species from vernacular names. In addition, samples collected will be verified at intervals by Andry Petignac at the arboretum d'Antsokay.

Bird Surveys: Our surveys have covered habitats ranging from the mudflats, mangroves, mangrove/arid forest transition zone and the arid forest located on the slopes and plateau to the east of our encampment. The aim of this study is to provide a species inventory for the different habitats within the proposd 'community protection area' in order to highlight the areas of conservation effort. As well as identifying relationships between habitat and species we are also looking at the influence of altitude on the abundance of avifauna.

   Our team is using a list method to obtain an inventory, with added observations on sex, number of individuals, maturity, behaviour, field layer and whether they appear to be breeding. Transects of 1km are walked between 05:00 and 07:30 local time, during the height of bird activity. Species are identified by sightings and audible calls. Each transect is walked three times in order to ascertain all species that are present in the area. It appears that this is a sufficient number of transects as on each third transect no additional species have been recorded. This will enable the team to cover a greater area of the study zone. GPS Coordinates are taken along transects and will later be plotted on GIS in order to identify the avifauna biodiversity hotspots. This information will be passed to regional representatives of WWF and ANGAP who use it for further in-depth studies and conservation efforts, and to identify ecotourism sites.

   We are happy that our methods are working well and producing good results, although there are still some limitations and biases that have to be taken into account. Species that are more vocal or easier to spot are more likely to have a higher abundance estimate than those that are not as easily identified by sightings or call recognition.

Preliminary Report on Lemur Research: There are two perhaps three groups of Ring-tailed lemurs (Lemur catta) located at camp 1. One group has its base in a nearby cave (coordinates: S 23028'19.5", E43046'14.3"). During reconnaissance on the 22ndNovember four individuals, one carrying an infant, were seen in the cave area. Since then it has proved difficult to locate them – on the 23rd November despite searching all day and hearing the lemurs call we were not able to locate them. This difficulty is due to the habitat type of the area i.e. the way the lemurs move through the closely packed spiny shrubs – rather than moving through the canopy of trees. This makes them difficult to spot from a distance due to the density of the vegetation.On the 24th November a group of Lemurs were observed feeding in nearby Mangroves but we don't know whether this was the same group from the cave. Our objective is to get a clear picture of the different group compositions (number of individuals & sex ratio) to be sure which group we are observing. We hope to follow each group for 4-6 consecutive days to get an idea of their home range, vegetation utilization, and broad activity patterns.

Transglobe Expedition Team News

 

Many of you will have seen the ITN film of Ran's successful but hair-raising ascent of the Eiger in March in support of Marie Curie Cancer Care. As a complete contrast, he was later invited to Zimbabwe. This is his report: "This summer I went with Louise, Alexander (12 years) and Elizabeth then (16 months) to Zimbabwe. The previous year in Zambia we completed the 7 day Zambezi Expedition recreating David Livingstone's last weeks' paddle to the Victoria Falls exactly 150 years after his famous 'discovery' of that feature. We were in the same dug-out canoes that he used and on arrival at the Falls we officially 'opened' a big bronze plaque to honour David Livingstone's memory. The white Zimbabwean involved in the Livingstone trip asked us back to his own country this year to help promote the plight of the African lions (which just in the last 30 years have plummeted from 200,000 to 16,000 to date. We spent a week with ALERT near Victoria Falls where young orphaned lion cubs are, over a two year period, trained (largely by UK gap students) to get used to fending for themselves in the wild. They are then carefully re-introduced to the wild in areas where poachers have been excluded. We also helped publicise the plight of Black Rhinos, and spent further time in the LakeKariba area to that end. We gave a big presentation in Harare to help finance ALERT and will be giving a further big presentation for ALERT at the RGS on 18 January. If you are interested let me know. Very Best Wishes – Ran"

 Janet Reynolds (Cox) writes: "I will be 50 in 2 weeks time and not very happy about that!!  How did that happen when I was only 28 yesterday?!!!!

 I had an exciting weekend with the New York Giants (US Football team) in late October.  They were here to play the Miami Dolphins at Wembley – the first competitive US football match played outside the U.S.A.  Being good Americans, the powers that be insisted that the team tour buses were under police escort at all times so for once we weren't held up by any of London's traffic lights!  As you'll know, they devastated the turf at Wembley but they said it was a rubbish pitch anyway!

 Tourists have gone and my main winter work consists of haring around Englandwith F1 Honda Racing designers and engineers – at very high speed of course!  I am happy to report that I continue to hold poll position in the drivers' league (not the F1 drivers you understand).  It's not quite what I envisaged for myself 20 years ago, but keeps the fleet of vehicles on the road through the long winter!

 I hope all of you are well.  Joan is chipper as ever, though admits to hating the long winter evenings.

 Congratulations to all who spoke at the RGS – great job! – Love Jx

   News from New Zealand comes courtesy of Martin "Buzzard" Weymouth:  Glenda, Cian, Ryan and I finally found 16 acres of golf range potential here in Kerikeri,NorthIsland, earlier this year. So, we left family and friends in Tauranga to pursue our dream.

 No one told us that the local council here still thought that the world was flat and that they had world class rugby players. We had (and still have) a battle on our hands in regard to advancement and growth rather than hang around and become like the Moa[flightless NZ bird – now very extinct – Ed]. After a few months we finally have had progress and have trees removed and an area defined where our range and café will stand. Mind you, we still await the building permits etc.

 I still work at NZ's largest citrus fruit export facility but am only biding my time to, we hope, mid 2008 when we get to bash some golf balls around the place.

 Glenda holds the fort and has done a great job in bringing up the boys. Cian (3¾yrs) goes to Kindy [presumably Antipodean for Kindergarten! – Ed] and Ryan (2yrs) makes a mess. Both my older boys with my two grandchildren stayed with us recently and we all had a good old time.

 Both our dogs continued to explore the area at their own will and made one trip too many. They were both shot for pestering sheep! – Sad day. We have gained two Chinese ducks which have settled in with our blind Sydney Silky chook [ presumably a non-extinct antipodean bird – Ed]

 I completed my fifth half marathon last month but it was my slowest. All in all we are well. Please forward our e-mail address to all as we would love to keep in touch with long lost friend. Wishing everyone a grand festive season from us here in NZ. Take care and keep in touch. – Martin. weymouth@bopis.co.nz

And now we turn to Canada for the latest news from Dave Peck: "If anyone remembers, on the expedition I celebrated my 10,000th birthday during the expedition (ten thousand DAYS old, that is!) on Tuesday 4th November 1980. On March 22nd next year I shall be celebrating my 20,000th birthday – if anyone is in western Canadaat that time you would be welcome! It's difficult to believe that TGE was half my lifetime ago.

And now here's the latest news from here… I started doing training part-time for the ferries last year and found that I really enjoy it. I've put together some computer-based training programmes for them and have been having great fun teaching up to 16 new hires at a time; so much fun that I have also been going to college part-time taking my Provincial Instructor's Diploma. I'm hoping to get a full time instructor's job with the ferries next year when they build a new training academy at SwartzBay. However, the biggest change is… three weeks ago I started a new job at the ferries. I am now the Safety Officer for the Southern Islands. I am responsible for the eight island ferries from Nanaimo south, over about 150kms, as well as all the terminals in that area. I originally applied for the job in November but there was a bit of a battle between myself and the union which I eventually won and so I finally started the job 3 months ago. They are sending me on all sorts of courses to bring me up to speed on various regulations and techniques, which can be a bit much sometimes, but I seem to be doing OK. I get on very well with my boss, another Brit called Dave, and as I helped his boss study for his Captain's papers about ten years ago, there are no problems there either! All the best for the silly season to all. – Dave P"

South Africa next – Here's news from Lesley McQuaid: Finn, has just completed a BSc at Rhodes, with distinction in Maths and Chemistry – we're very proud parents ! He's planning an Honours degree in Maths, in my field (which was Mathematical Modelling – NO giggles from the rest of you out there!) Kirsty has finished a gap year looking after two small boys in Versailles. She came home much more fluent in French, and determined not to have children for another 10 years (even 10 years seemed a bit soon actually!). She starts a degree at Rhodes next year, though hasn't decided on faculty yet, let alone subjects.. Isla has one more year of school to go. She has just finished a very busy and successful year. She's the first of the gang to be made a prefect, and organised her house for the Interhouse Music (they won) and the Interhouse Athlectics (they also won). Running went well, first in the Open 800m, but she didn't do so well in the short distances. But she won the Senior Cross-country.At the same time, she went to dances at the boys school (don't talk to me about trying to find dresses at short notice!). Next year she will probably continue in the Chamber Choir and Orchestra until October, and that always keeps her busy. Christopher has had a busy year as usual. 5 overseas trips, Hong Kong, Chile, Omanand Britain (in April – we were very happy to have spent some time with his step-father before he died). And he has been awarded a National Research Foundation Research Chair, which means no more lecturing (unless he wants to) and buckets of money to do research – normally happens that he runs out in November, so has to go to the Dean of Research with a begging bowl, but this year he ran out of money in July. So it has been quite a stressful year at work! He is still enjoying his riding when he gets the chance, and has taken over Kirsty's lovely horse Grotto [named after Grimes I wonder – Ed]. The beginning of my year seemed frenetic. I went to Europe with Kirsty in January, to see her settled with her French family, and to visit friends and Christopher's family in April. I ran the Rhodes International Summer School again, in June/July. I finished tidying that up in September, and have decided to take next year off so that I can be at home for Isla's final year, but there never seems to be much in the way of spare time – can't think how we manage when I'm working – I think the house just quietly falls apart. Anyway. We hadn't planned much for our long Christmas holiday, the children usually take care of that, and, yes, we will be all together for only a week and a half – Kirsty arrived from France a week before Christopher went to Chile, and he gets back from Chile on Dec 22nd, just before Finn leaves to travel overland to Zanzibar on the 26th.  I take care of the laundry and the outfitting of all expeditions, but think I will stay at home for a quiet Christmas! Love to all – Lesley

And now to Bill Kronick (our man in Los Angeles): "Season's greetings to all from sunny Southern California from 'Uncle' Bill Kronick, who is looking forward to the next Presidential election here, featuring a Democratic ticket of Obama, Oprah (and as a substitute, if needed), Uma…Hope all of you are well and prospering.  Am completing fourth novel, noting that sales to TGE buddies of preceding three, mentioned in earlier newsletters, skyrocketed after info was published to order from AuthorHouse.com, from nil to nil!   That's OK 'cause I suspect three years of steady reading on the BB while awaiting for the final ice floe was a lifetime's worth".

Dave Hicks tells me he was 65 on 19th December 2007.

   And finally from Maryclare: "Mclare (aka Watchoutmary ) took to the streets again last month when, as part of an artwork by Ruth Ewan commissioned and produced by Artangel, 100 buskers were positioned around London during morning and evening rush hour to sing Ewan McColl's "the Accounting" .Watchoutmary's most memorable moment- standing on Westminster Bridge under Big Ben singing to a police boat on the Thames. In her other life Mclare is cemented in front of her computer writing and thinking and writing and thinking and very confused by the whole research process….she will be 196 when she finishes.

And finally….

With very best wishes to you for Christmas and the New Year from the Trustees …. and don't forget, if you know or hear of someone attempting a project that needs support which is mad, marvellous, going somewhere and doing something significantly worthwhile, put them in touch with us.

 
---
 NEWSLETTER No 4
June 2007
Dear Reader
I have recently returned from a visit to Halifax, Nova Scotia and was reminded of the occasion, more than a quarter of a century ago, in February 1979, when I first set eyes on the Transglobe ship, which was then called Martin Karlsen, in Halifax harbour. With only 6 months to go before Transglobe was due to depart from Greenwich, we still had not found a suitable vessel. It was Poul Andersson (a young Danish colleague who tragically died before the expedition set off) who suggested we try and locate a well known Danish expedition ship called Kista Dan. After searching through various records, we found the 35 year old, 1200 ton ship belonged to a Canadian company and had been renamed Martin Karlsen. I telexed the owners for more information. They replied promptly that the ship was on the market. The price: Canadian $2 million (about £800,000)! As we had no funds and no budget, we were entirely dependant on finding a sponsor to put up such a large sum.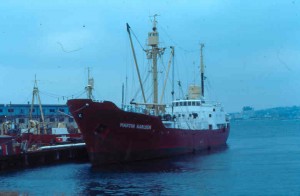 However, Martin Karlsen seemed perfect for our needs and, following an inspection by Canada's Deputy Dominion Hydrographer on our behalf, in February '79 I found myself flying to Nova Scotia in order to look her over. I first saw the ship the night I arrived. After checking into a hotel, I went for a walk along the snow covered docks. It was dark and bitterly cold. In those days the docks were wooden 'finger' jetties poking out into the harbour. Warehouses obscured each jetty from its neighbour. Over the roof of one such warehouse I recognised the crow's nest of theMartin Karlsen. As I entered the dock, illuminated by her own deck lights, I saw the profile of our ship reflecting in the still water. I was transfixed. That image has been with me ever since. There were figures working on deck, winches rattling and derricks swinging out over the dock. There was the rumble of machinery and staccato puffs from the funnel. I sat on a frozen bollard for ages – just watching.
Following my inspection, I was convinced that this was the perfect ship for our needs. However, in addition to the hefty asking price, we would also have a diesel bill to pay for a consumption of 4 tons for each day at sea. Over the 3 years, that would add up to millions.
That we did get sponsors for the ship, the fuel and so much more besides, was close to being miraculous. The ship was only a part of the expedition – a support and delivery vehicle. Planning and preparing for the circumnavigation took Ran, Ginny, Ollie and Charlie seven, full-time, unpaid years. I'm sure that I'm not the only one who looks back in amazement at what was achieved during those pre-departure days over 25 years ago. The success of the three year journey is well documented but if any part of the planning and procurement had failed, it may well have been a very different story. Without doubt, it is a story worth celebrating 25 years on.
Anniversary lecture at the RGS – 10th September
Following on from the success of last year's event at the Royal Geographical Society, and in order properly to celebrate the 25th Anniversary of the Transglobe Expedition, Ran Fiennes and some members of his original team will be giving a talk at the RGS on 10th September at 7pm in support of the Transglobe Expedition Trust. Much has happened since 29th August 1982 when the Benjamin Bowring surrounded by a flotilla of small boats sailed back to Greenwich with HRH Prince Charles at the helm. We are all older and possibly wiser but the ageing memory fades. This may well be the last time that you will hear anything like a coherent account of the drama, horror, thrill, humour, passion and/or sheer, undiluted excitement which accompanies any talk given by a Transglobe Expedition member. It could (and should) be a treat not to be missed. We very much hope that many old members of the Team will be present and will help to jog the speakers' memories with searching questions and startling assertions. Please tell your friends and encourage them to join us.
Tickets will be available from Monday 16th July and can be purchased (£20 each) with a cheque payable to "Transglobe Expedition Trust" and sent together with a stamped addressed envelope to me: Anton Bowring, Walnut Tree Farm, Benhall, Saxmundham, Suffolk IP17 1JB. Box office tel: 01728 604434
 TRUST NEWS
Following the grants given last year to the Scientific Exploration Society(see:http://www.ses.explore.org )and the Wild Camel Protection Foundation (see:http://www.wildcamels.com), the trustees have considered various grant applications. Many have been from gap-year students seeking funds to join established expeditions. While the Trust would love to support such applications, sufficient funds are simply not available and the Board has no option but to react unfavourably. It is also worth pointing out that often these applications are mass produced with a standard letter being sent, unsigned and lacking any personal or relevant link with their proposed donors, no offer of subsequent follow-up and no detailed background material. Any gap year applicants reading this newsletter should take note that it is vital for them to make applications to potential donors as relevant and personal as possible. Only by doing this, are they likely to have a chance of a favourable reaction.
 To date, we have only one grant in the offing this year. The trustees were intrigued to hear from John Hare again with a plan which so admirably fits the Trust's "mad but marvellous" criteria. As you may recall, John has established himself as a champion of the extremely rare and critically endangered Bactrian camels of the Gobi Desert. With Trust support last year, John was able to undertake a survey of the region which produced startling results with the discovery of potassium cyanide canisters left by Chinese rogue gold miners littering the only fresh water spring in the area frequented by the camels and other rare fauna. John's reaction was to contact the Chinese authorities, report his findings and recommend the establishment of greater protection for the area. This has been agreed by the Chinese.
However, in order to further protect the wild Bactrian camels which are considered to be the eighth most endangered species on the planet, John has a new scheme which involves buying two domestic Bactrian camels from a zoo in Poland. In support of this scheme, Transglobe Expedition Trust has agreed in principle to buy the animals. Together with a Mongolian camel herdsman, John will spend 3 months walking / riding the animals back to Britain where they will be housed and cared for at an appropriate wildlife sanctuary. The aim of the journey is to raise public awareness of the plight of the wild Bactrian camels which are now so close to extinction. The journey will be routed in sections, mainly off the beaten track, with space for supporters and members of the press and media to join the walk for specific segments.
 Anyone interested in supporting John Hare should contact him at: The Wild Camel Protection Foundation, School Farm, Benenden, Kent TN17 4EU or e-mail: harecamel@aol.com.
FAREWELL
The Transglobe Expedition was extremely fortunate to have a number of very distinguished supporters as friends or members of the governing Board. Leaders of industry, polar experts and eminent explorers, senior military figures and leading lawyers and accountants all gave their time on a regular basis to advise and support the expedition team. For many, their participation became as committed as that of any member of the expedition team. They belonged to the Transglobe 'family'. It is therefore sad indeed to hear of the deaths of such generous friends.
 Sir Campbell Fraser died in April 2007. Sir Campbell was chairman of Dunlop and head of the CBI during the period of the expedition. Thanks to Sir Campbell, Dunlop was a major sponsor, supplying all the inflatable boats, vehicle tyres, ship's liferafts and other Dunlop products. He was a member of the Transglobe Export Advisory Committee which promoted all sponsors' products and services overseas. In 1975 Sir Campbell also became chairman of Scottish Television and he was a director of BP and BAT for many years.
 Although not directly involved in the Transglobe Expedition, Sir Wally Herbert was nevertheless a friend and keen supporter. He died in June this year. Wally was a true pioneer of polar travel, his best known journey being the British Trans-Arctic Expedition which he led in 1968-1969 and which (using dog sleds) succeeded in being the first ever surface crossing of the Arctic Ocean. Earlier, in 1955, Wally joined the Falkland Islands Dependencies Survey (precursor to British Antarctic Survey). His achievements in Antarctica include a 3,000 mile journey along the mountainous 'spine' of the Antarctic Peninsular over a 2 year period as well an exploratory expedition to the Queen Maud range and an ascent of the Beardmore Glacier in 1961-62. From 1977 to 1979, Wally attempted to circumnavigate Greenland, again by dog sled. The journey was not completed due to appalling weather conditions but remains unbeaten to this day. In 2000 Wally was awarded a long overdue knighthood.
 Peter Drew OBE, also died in June. Peter was chairman of the construction company, Taylor Woodrow. He joined the company in 1965 and became a director in 1979. Peter had specific responsibility for St Katharine's Dock where the Transglobe Expedition was hosted in the days leading up to the expedition's departure in 1979. At the time, various buildings around the dock were made available for the first of the expedition's 8 trade shows. The London trade exhibition was opened by HRH the Duke of Kent. Through Peter and the then chairman, Lord (Frank) Taylor, Taylor Woodrow remained major sponsors throughout the course of the expedition with the provision of skidoos.
1730 CLUB NEWS
 In recent months, the 1730 Club has not been active although it is very much the intention that future gatherings will take place at the Commonwealth Club in Northumberland Avenue (off Trafalgar Square). Following a survey of opinions of those who had been attending previous gatherings, it became clear that, for most, the attraction of the Club was to meet old friends and enjoy a social evening rather than have to worry about organising events. In view of this, a smaller group of die-hards will continue to manage events such as the forthcoming RGS lecture and perhaps, less frequently, social evenings will be organised. More on this subject will be revealed in due course.
 HELL BELOW ZERO
 I recently bought a video (not available on DVD) of the film "Hell Below Zero" (1954) starring Alan Ladd. Although based on the Hammond Innes story "The White South", I can't say that it is a great film – in fact it is pretty awful. However it does have one redeeming feature, it also 'stars' Kista Dan the ship which in 1979 became Benjamin Bowring. The film makers actually sailed on the ship to Antarctica and filmed much of the footage on board. I was amused to see that Alan Ladd's character, Duncan Craig, the Chief Officer, used Howard Willson's cabin where a scene is shot of Ladd with Niall MacGinnis playing the ship's doctor, Dr Howe. In the scene, the drunken doctor is threatening to kill whoever murdered his friend Mr Nordahl, owner of the Bland Nordahl Whaling Company! By way of contrast, I can thoroughly recommend another film featuring the ship. "To the Ends of the Earth" is available on DVD. Price £20 and obtainable from Transglobe Expedition Trust.
TEAM NEWS
 I heard from Janet Cameron (London office) that her mother Joan Cox (London office), recently celebrated her 86th birthday and is in excellent spirits.
Chris and Lesley McQuaid (ship's scientists) visited the UK recently from South Africa with their daughters Kirsty and Isla. Kirsty is working as an 'au pair' in France for a year. Chris has just been promoted (although I'm not exactly sure what his new position is) at Rhodes University in Grahamstown which puts him in a very senior position, internationally, as a marine biologist.
Ken Cameron, (Chief Engineer) tells me that Lesley visited him and was privileged to have a bagpipe performance by Ken's son, Sandy.
Bill Kronick (director of To the Ends of the Earth) tells me that he is still pregnant (see December 2006 issue). Although I am somewhat mystified, I can report that he is expecting either a boy or a Standard Poodle. I do hope it is the latter! Bill is writing a 4th novel. His latest release NY /LA is a gripping murder mystery set in the dollar driven world of film and theatre. Like his previous books, The Cry of Sirens and Cooley Wyatt, NY /LA is available from Amazon books or publisherswww.authorhouse.com
Maryclare Foa (artist) sent me the following: "Maryclare began her journey two years ago ..to p ( for Please someone lend me a map) and h ( for How on earth did I get here ?) and d ( for Did anyone see a signpost?) – She has been exploring ideas and texts and images about the outside – because she thinks that being outside is like having a conversation, and it goes back and forth – she's speaking to the landscape and its talking back to her (well what did you expect !!??), this has meant that generally speaking she is trapped deeply in her own naval and can hardly see the jungle for the moss let alone the wood for the trees. In September she is going for a month to live in a castle by a lake somewhere in Denmark and make drawings in response to the outside environment – Meanwhile her alter ego"Watch out Mary and the stunning Vistas" has made a number of appearances in South London – in preparation for…she's not sure what but it seems a good idea at the time".  
Ginny Fiennes' sister, Arabella Macintyre Brown says she is "busy publishing books – just an excuse, really, to go out to the Italian printers who are 20 mins from the two prettiest villages on Lake Garda. In July Ran's niece Nicola is flying over from the US to join her in Transylvania for two weeks – they'll be there for Ginny's birthday (9th July) so will celebrate with a little Romanian tradition. More about books, mountains etc at Abbs's blog:  http://batland.blogspot.com/ "
John Parsloe (navigating officer) has been appointed 'Ice Master' for the fifth season running on MVDiscovery during her 5 cruises from Argentina to the Antarctic Peninsular and South Georgia. Although there are now many cruises to Antarctica, MV Discovery is a particularly fine ship – why not book a cruise and join John – see: www.voyagesofdiscovery.com
Nigel Cox (radio officer) has given up his successful website design company in order to devote himself fully to painting. Fresh from his recent success at the Royal Society of Portrait Painters annual exhibition, Nigel's solo show at the GX Gallery depicts people from the streets of London and represents the strength of the individual when removed from the crowd. The GX Gallery is at 45 Denmark Hill, London SE5 8RS and the exhibition runs from 6th – 19th July. It really is a great show – don't miss it. See: www.njcox.com and www.gxgallery.com
Ran Fiennes (leader) recently conquered his vertigo and successfully climbed the notorious, vertical, north face of the Eiger. With colleagues Kenton Cool and Ian Parnell, they made the 6,000 ft ascent in 4 days. The project was in aid of Marie Curie Cancer Care which you can still support on:www.mariecurie.org.uk. Another great achievement … so what's next?
 MOUZER PIKE & GNOME BUZZARD
By Ran Fiennes
 One day in 1982, on the way to the North Pole, it was minus 49°C and Charlie was in a dark mood, nursing an especially sore toe which had been crushed between his skidoo and an ice block. He happened, at one camp-floe, to find a poly-bag at the bottom of his camp-box. "What the hell is this doing here, Ran?" he thundered. "Your personal rubbish should be in your personal sledge box". I had only a few days before, confronted Charlie for having a Louis Lamour cowboy paperback with him despite our prior agreement that neither of us would take any non-vital equipment with us en route for the Pole. Nor would our personal gear be stashed anywhere other than in our own personal sledge boxes.
Now Charlie dug down into his box and pulled out the small offending poly-bag. I must have put it in his box in error before we set out from Alert.
"I do not believe this" Charlie exploded, "What the hell is this?" He pulled a small furry mouse out of the bag and waved it under my nose. "In what way do you classify this as vital polar gear?" Before I could explain the mouse's validity, Charlie mouthed a strong expletive and extracted the poly-bag's only other occupant, a 5 inch wizened garden gnome with a sad face. "We both agreed that even tooth brushes would be left in Alert as non-essentials" Charlie muttered staring at the gnome "yet here you are packing this trash…..And, how dare you put them in my box?"
Charlie, quite vain about the gleam of his admittedly very white teeth, had only with reluctance agreed to our taking neither brushes nor paste and never missed an opportunity to winge about their absence.
"This mouse" I explained "is Mouzer Pike, belongs to Eddie and was entrusted to me, which means us, to be the first mouse ever to reach both Poles" Charlie said nothing. "And the gnome" I added "is Gnome Buzzard [pronounced with a hard G] which will likewise, on behalf of Buzzard Weymouth's local Leighton Buzzard gnome charity, become the world's first circumpolar gnome"
"So?" Charlie grunted.
"So they can surely both be classified as necessary to our trip" Charlie thought about this for a while and concluded "Well from now on they can both travel in your box on your sledge"
A couple of days later we came to a huge area of fast-moving sludge ice and Ginny warned us on the radio that Karl had, on his last recce flight, reported big zones of weak new ice to our north and west. Swerving to avoid one mushy bit I veered straight into another and my skidoo broke through. Within minutes, both it and my sledge had disappeared. The sea-bed was 17, 000 feet below; the Lomonosov Ridge. And that sadly is where today, in 2007, both Mouzer Pike and Gnome Buzzard still reside. The Transglobe Expedition members achieved the first and only polar circumnavigation of Earth. But, thanks to Charlie, another gnome and another mouse, non-Transglobers, may yet achieve priority at this particular geographical feat.
 AND FINALLY … MORE ON THE TRUST
 It is generally agreed by the Trustees that the role of the Trust can be greatly enhanced by holding regular events such as last year's excellent and much praised gathering at the Royal Geographical Society. John Blashford-Snell, John Hare and Ran together with Libby Purves in the 'Chair' gave an entertaining and enlightening account of the motivation that drives them to make extraordinary journeys and undertake valuable projects. "Expeditions – What's the Point?" was the first in what we hope will become an established series of talks given by those who benefit from a Transglobe Expedition Trust award. The outcome is that in addition to raising awareness of their projects and thus raising further support, speakers are also helping the Trust to raise funds in support of future beneficiaries.
As stated in our literature, the Trust is keen to support people and projects which follow in Transglobe's tradition of adventure and perseverance while undertaking a uniquely ambitious and worthwhile challenge in humanitarian, scientific or educational work. Our Patron HRH the Prince of Wales described Transglobe as "mad but marvellous". We now are looking to support other mad but marvellous projects. Although the sums available to donate are still modest, our own fund-raising activities are bearing fruit and awards will grow accordingly.
We therefore need to hear from applicants who are looking for support. We are keen on ambitious projects as long as they are well planned. The risk of failure doesn't put us off. Indeed, we are keen to support those whose ambitions, if they succeed, are likely to raise the level of human achievement. If you know anyone who is hatching a mad but marvellous scheme, do tell them to get in touch with the Transglobe Expedition Trust.
I look forward to seeing you at the RGS on 10th September. With best wishes.
Anton Bowring.