Shop
For more collectable memorabilia, scroll down.

New Portrait of Ranulph Fiennes by artist Nigel Cox.
London based artists Nigel Cox was born in Newry Co. Down Ireland and grew up on the edge of Dundalk, a small market town in County Louth. After graduating from Riversdale College of Technology in Liverpool he joined the Transglobe Expedition, led by Sir Ranulph Fiennes. This three-year expedition successfully achieved the first circumnavigation of the globe on land, sea and ice via North and South poles along the Greenwich Meridian.
During the expedition Nigel would be at sea, on an ice cap or in some remote location for months on end. Spending large amounts of time alone, surrounded by the staggering beauty of vast and often barren spaces had a profound affect and the essence of this experience strongly influenced his painting.
For many years after the expedition Nigel lived abroad, painting watercolours and oils, exhibiting and undertaking private commissions. Now living in London, he paints on linen or panel, building up thin layers of oil paint and glazes to develop depth and detail.
His love of large open spaces and lack of clutter is obvious but he is also fascinated by detail. These opposing elements are merged confidently in his paintings providing the viewer with a glimpse beyond the clutter of everyday life, conjuring up notions of escape and peace, offering sanctuary from the frenetic world outside.
The figures are alone but not lonely; searching but not anxious, anticipating yet calm. They have an inner peace and strength and are at one with their surroundings. The paintings reflect solitude, tranquillity and confidence, giving every day scenes an unexpected and surreal feeling while keeping them within the real world.
His work today reflects the many facets of 'his' London from Business People and Tourists to Street Performers and the Homeless. Whatever the subject matter the essence of the paintings remains constant, calm and confident.
His painting of Sir Ranulph Fiennes is the first official portrait of the explorer and for Nigel it is a project that has taken him full circle.  From Radio Officer in his early 20's on the Transglobe Expedition ship 'Benjamin Bowring' in the early 80s to painter of the expedition leader in 2011. See his websitewww.njcox.com
Prices:
615mm x 515mm (incl border) unframed and unsigned £100 (+£5 p&p)
865mm x 745mm (incl border) unframed, limited edition of 200 signed by artist and by Ranulph Fiennes £750 (+ £10 p&p)
Collectable memorabilia:
Various members of the Transglobe Expedition Team still retain limited stocks of the items listed below. If you are interested in purchasing any item, please contact us.  Postage and packing (p&p) prices are shown for UK deliveries only. Overseas rates will vary.   All proceeds go to the Transglobe Expedition Trust a registered UK charity.
SEE BOTTOM OF PAGE FOR CHRISTMAS CARDS
Books:
Sadly, we have completely sold out of books.  If you want a copy they do come up for sale from time to time on the internet.Try e-bay and abebooks.com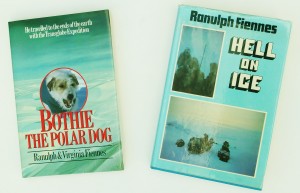 Philately:
Sold as a set or individually, the following limited edition covers are still available (some are signed by Ranulph Fiennes and other members of the expedition team).
Prices:
Individual envelopes:
Signed only by Ran Fiennes £20 each (+ 50p p&p)
Signed by Ran Fiennes & Charlie Burton £40 (+ 50p p&p)
Unsigned: £5
Signed sets
 (now only 11 per set as listed below) : £150 (+ £2 p&p)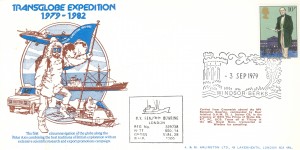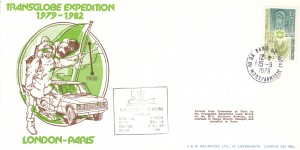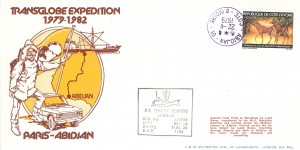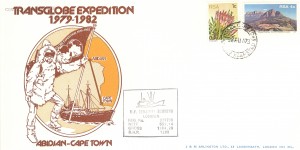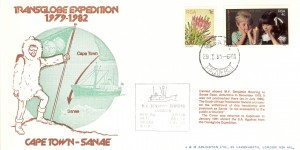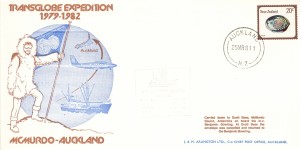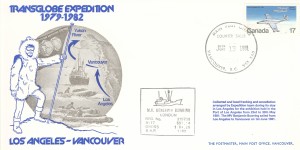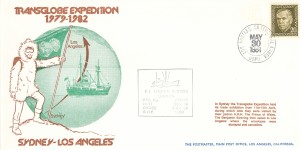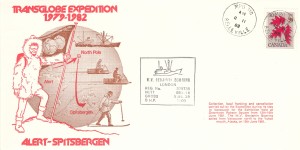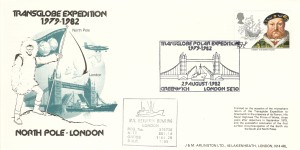 Posters: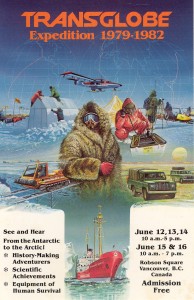 This poster was designed for the Vancouver trade exhibition:
(60 x 44 cms)
Price: signed by Ran Fiennes £15 (+£2 p&p)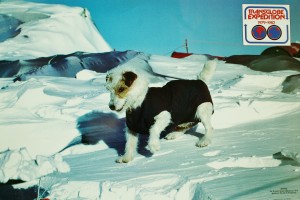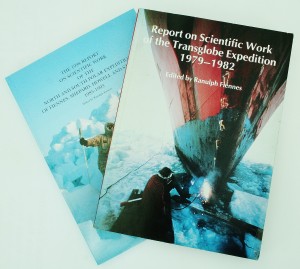 "Bothy" the Fiennes' Jack Russell Terrier. The only animal to have visited both North & South Poles.  Poster signed by Ran Fiennes
(70 x 50 cms approx)
Price: £15
(+£2 p&p)
Science Reports ( 2 vols) – see 'Science' page on website for extracts.
Price: £10 per volume (+ £3.50 p&p)
 Miscellaneous items: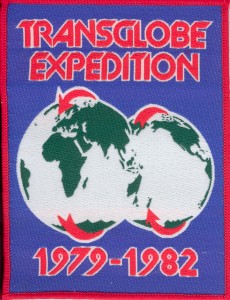 Sew on badge
Price: £5 (+ 50p p&p)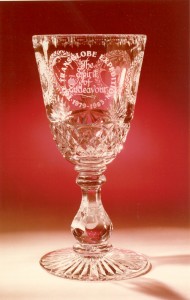 Cut glass crystal goblet produced by Thos. Webb & Sons of Stourbridge and designed by Michael Allen.  Each is housed in a beautifully gold embossed presentation box with a framed certificate authenticating it as a numbered part of a limited edition of 22. The first was presented to the expedition's Patron HRH the Prince of Wales. The second was bought by the expedition's generous supporter Dr Armand Hammer.
Price:  £350 (+ £10 p&p)
DVD – To the Ends of the Earth   UK price £20  (+ £1.95 p&p)
The incredible film of the
TRANSGLOBE EXPEDITION 1979 – 1982
Written, Produced and Directed by William Kronick
Presented by Richard Burton
Music score by John Scott
This film was made during the course of the expedition and covers the 3 year epic journey in gripping detail. In order to record events as they unfolded without being a burden to the expedition members, the film crew  (Mike Hoover – camera,  Beverly Johnson – asst. camera and Tony Dutton – sound), had to mount and equip an expedition of their own. With the support of Dr Armand Hammer and under the direction of veteran film-maker William Kronick, no expense was spared to capture the drama and danger which confronted Ran Fiennes and his colleagues.
The film runs for approx 105 minutes and is in PAL format (DVD region 2)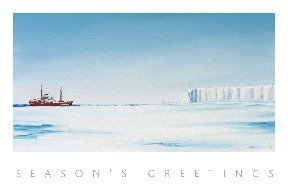 Christmas card or blank greetings card (picture taken from a painting of the Benjamin Bowring at Sanae by Nigel Cox) £0.70p each when ordered in packets of 5 (ie £3.50 per pack).
For overseas and/or bulk orders or with additional personalised printing, contact Transglobe Expedition Trust for prices (click 'Contact us'below).
 .
..
. To purchase any of the above, please contact us. Stocks are subject to availability